KOREA SPECIAL OFFER 1 DAY
ข้อเสนอสุดพิเศษเที่ยว 1 วัน
การันตี 2 ท่านเดินทาง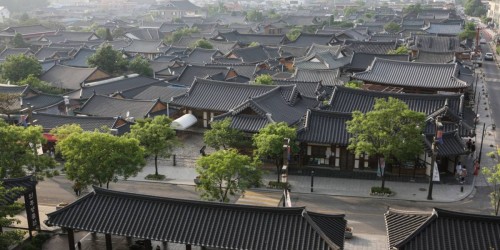 MONDAY TOUR
Tour Code : 1D#01
EXPORE JEONJU HANOK VILLAGE 1 DAY
⊗ Time : 09:00 to 17:00
$ Price : 

THB 1,790
In Jeonju, where you'll explore Hanok Village where more than 800 traditional houses have been preserved amidst the modern city. Learn about the Joseon Dynasty which was founded in Jeonju and has influenced much of modern Korea's traditions.
Hotel > Jeonju Hanok Village > Hotel
After pickup at your Seoul hotel, travel three hours in a comfortable coach to Jeonju. After savoring your first meal in Jeonju, your guide will show you around the Jeonju Hanok Village, a designated slow city. This is an area tucked away within the modern city with over 800 traditional houses – hanok – preserved within its limits. You can visit the Jeonju Hanji Museum where you get a look at the traditional process for making paper. You can also enjoy other museums, artisan boutiques, restaurants and tea shops that you find in the winding streets.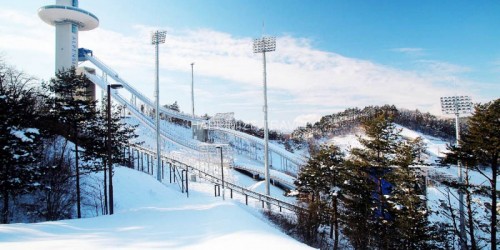 TUESDAY TOUR
Tour Code : 1D#02
PYEONGCHANG OLYMPIC SITES
⊗ Time : 09:00 to 17:00
$ Price : 

THB 1,790
Visit the Olympic venues of 2018 Pyeongchang Winter Olympic Games, and enjoy the beautiful natural scenery of Daegwallyeong Ranch!
Hotel > Alpensia Resort Olympic Venue > Daegwallyeong Ranch > Hotel
After pickup at your Seoul hotel, travel to Pyeongchang to visit Alpensia Olympic Sites of 2018 Winter Olympic Games. 

Then you will transfer to a ranch in Daegwallyeong, to enjoy the beautiful natural scenery.
WEDNESDAY TOUR
Tour Code : 1D#03
NAMI ISLAND & PETITE FRANCE
⊗ Time : 09:00 to 17:00
$ Price : 

THB 1,290
Enjoy the amazing scenery of Nami Island & Petite France tour!
Hotel > Petite France > Nami Island > Hotel
After an early morning pickup from your hotel, you'll travel to Petite France. The Korean TV series "My Love from the Star" starring Kim Soo-Hyun and Jun Ji-Hyun filmed in this very charming French town.   We then continue to famous for its beautiful tree-lined roads, Nami Island. Depending on the season, you'll experience different beauties of the island.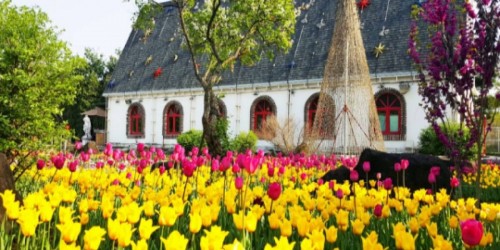 THURSDAY TOUR
Tour Code : 1D#04
PAJU "DESCENDANTS OF THE SON"
⊗ Time : 09:00 to 17:00
$ Price : 

THB 1,890
Enjoy a day trip to Paju. Visit to Sanmeoru grape farm, Botanical Garden Byeokchoji BCJ, Heyri Village. + Unhyeongung Palace (Seoul)
Hotel > Unhyeongung Palace > Sanmeoru Winery > Botanical Garden Byeokchoji> Heyri Village > Hotel
Get a morning pick-up at your hotel, then we will first visit Unhyeongung Palace, the visitors can try on and learn more about traditional clothing of the Joseon Dynasty.

Our next short stop is Sanmeoru Winery which is produces Korean wild grapes and drinks made with Korean wild grapes from its wonderful natural environment

Next, we'll visit the The Botanical Garden Byeokchoji, shooting site of the 'Descents of the Sun'. It is a perfect natural getaway for urban residents, as well as an important habitat for preservation of diverse plant species from home and abroad.

The last stop is Heyri Village. Korean artists of various specialties such as writers, painters, actors, architects and musicians constructed the cultural town of Heyri. Within this community there are residences, workrooms, art galleries and museums.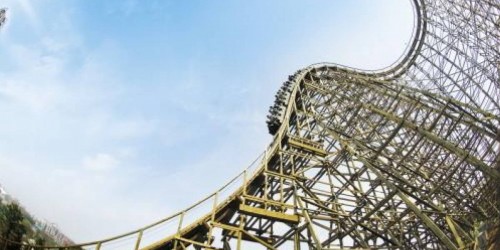 FRIDAY TOUR
Tour Code : 1D#05
EVERLAND THEME PARK (Free Pass Ticket)
⊗ Time : 09:00 to 17:00
$ Price : 

THB 1,790
With your admission ticket to Everland Resort, the world's 7th-largest theme park, you'll be driven from Seoul to Yongin for a fun day of thrilling rides and wildlife attractions suitable for the whole family.
Hotel > Everland Theme Park > Hotel   
Get up close and personal with the plant-eating animals such as giraffes, elephants, and ostriches, in the "Herbivore Safari", in addition to seeing the white tigers, lions and bears in the "Safari World."       Everland is also known for its gorgeous flower arrangements and beautiful gardens that have been year-round fixtures since the Rose Festival in 1985. The park is also home to over 40 heart-pounding rides and attractions, making it the best place for a fun day out with your loved ones.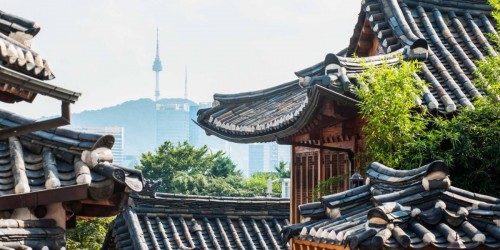 SATURDAY TOUR
Tour Code : 1D#06
SEOUL CITY FULL DAY EXPLORE
⊗ Time : 09:00 to 17:00
$ Price : 

THB 990
Visit the Blue House, the official residence of the Republic of Korea's president, the royal palace of Gyeongbokgung, National Folk Museum, Insadong Shopping district and so much more!
Hotel > N Seoul Tower > Gyeongbok Palace > Ginseng/Red pine/Korean Herb/Diet-Beauty Mi> Kimchi making & Hanbok Wearing Experience > Garosu Street > Cosmetic Store at Seokpajeong > Duty Free Shop > Hotel
We will first vist N Seoul Tower (Photo Stop – No entrance), one of the representative landmarks and multi-cultural venues in Seoul.

Watch Changing Guard Ceremony at Gyeongbok Palace – The largest palace in Seoul (Photo Stop – No entrance)

Then you will visit local products store, where you can see and buy the more reperentative Korean health products including Ginseng, Red pine, Korean Herb, Diet-Beauty Mi (Korean Healthy food)

Next, you will be guided to experience Hanbok (Korean Traditional Costume) wearing and Kimchi making.

Lastly, you will have an opportunity to shop at Garosu Street, Seokpajeong and Duty Free, ranges from luxury goods to life necessities.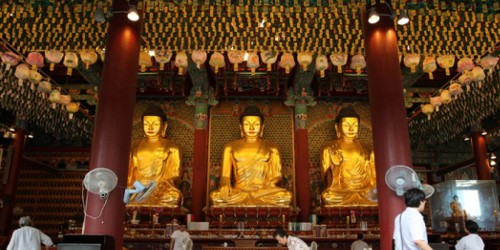 SUNDAY TOUR
Tour Code : 1D#07
TEMPLE LIFE TOUR
⊗ Time : 09:00 to 17:00
$ Price : 

THB 1,390
Visit Jogyesa Buddhist Temple with an informative guide + Enjoy various activities including Lotus lamp making & Mandala drawing + Shopping in Myeongdong + Having conversation with eminent monk
Hotel > Jogyesa Temple > Insadong > Myeongdong > Hotel
Get picked up at your hotel and we will visit Jogyesa Temple, which is located in the middle of the city, does not give off the solemn and traditional air of other temples which are located deep in the mountains. Although it does not offer the seasonal scenery of the mountains and the sea, the first thing you will notice are the lovely locusts trees that are about 500 years old.

Afterwards, continue to Insadong, an place full of traditional Korean atmosphere where old but precious and traditional goods are on display

Lastly, move to Myeongdong district for a shopping adventure.
*Photo Credit : (c) KOREA TOURISM ORGANIZATION
Included
1. Transport
2. Admission Fees
3. Tour Guide (English)
Excluded
1. Tip for Guide
2. Personal expenses
3. Optional activity costs
Cancellation & Refund
1. Cancellation within 15 calendar days before the services begin: You will be charged a THB 50% cancellation fee.
2. Cancellation within 14 calendar days before the services begin: You will be charged a THB 70% cancellation fee.
3. Cancellation the day of the services : You will be charged a 100% cancellation fee.(no refund)